"The Fall of the Wall"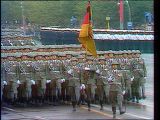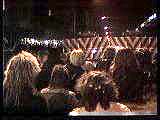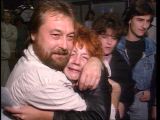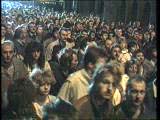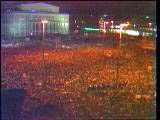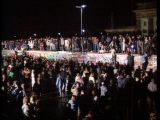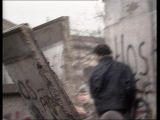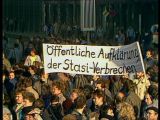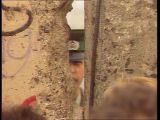 A retrospective spanning the 163 days from the German Democratic Republic's 40th birthday to the first free elections to the People's Chamber. A tri-medial project by the East Germany Broadcasting Association (ORB)
On the occasion of the 5th and 10th anniversary of the fall of the Berlin Wall the ORB has begun broadcasting one of the longest documentary series in the history of television. "The Fall of the Wall" recalls the events of the day in the GDR. A retrospective spanning the GDR's 40th birthday to the first free elections to the People's Chamber. The first part of the series of 15 minute long documentaries covering the peaceful revolution was awarded the prestigious Adolf Grimme Prize in 1995 and honoured as a journalistic masterpiece.
Historical Data, Retrospectives and Biographies
The ORB has extended "The Fall of the Wall" into an ambitious tri-medial project involving television, the internet and radio. This provides a special opportunity for the ORB, a young east Germany station, to make a significant contribution to the recollections of the fall of the Berlin Wall.
The expansive German language internet site, with over 2000 pages covering background information, documents and chat rooms, is without doubt the most comprehensive archive on the fall of the Berlin Wall available on the internet. Due to the phenomenal interest from abroad in the project and the events surrounding the fall of the Wall we are offering an abstract of out site in English. The English language version provides an insight to the events that changed global dynamics forever.
Encyclopaedia containing the most important information
Here you will find an overview of important information and gain an insight into what happened on the most historically relevant days. The biographies of key figures and an encyclopaedia of the most essential information should help you understand the exciting events that moved the world in the months from October 1989 until March 1990.
Wolfgang Thierse, in autumn 1989 a civil rights activist and member of the New Forum, today president of the German National Assembly (Bundestag), has called for a "unification of memories." Germans, both in the east and the west, should overcome their divided past through increased awareness of their common history. With our chronicle we hope to contribute to this and with our English version of the events we may even help people outside Germany to understand this part of our history.
Disclaimer: The information on the website "The Fall of the Wall" has been updated up to the year 2000. Recent developments and information about the events are not considered.